Let us re-purpose it for you! They say diamonds are forever, but what can you do when your personal tastes or trends change?
Let us show you how you can make your jewellery relevant again in our series of blogs.
As you probably know by now, we love jewellery, whatever the age or style, because we don't believe that it ever goes out of fashion! Yes, tastes can change, and new metals get discovered, even new gemstones. But because a piece of jewellery is made up of so many different parts, you can usually quite easily swap out some of it's component parts.

For example, you might want to update a ring setting or style, or replace a gemstone, or say swap white gold for something more durable, like palladium.
Either way, unlike a classic piece of clothing which can so easily be recycled or donated once it's no longer adored, a once-loved ring often ends up languishing in a jewellery box or safe.
We think that's such a tragedy, so you know that solitaire that once meant the world to you, that no longer brings you joy; we've got some great tips to guarantee you will fall back in love with it!
Semi-set Ring Mounts
Our semi-set ring mounts are mounts that are only halfway complete; the center stone stone is missing, but all the other setting details are finished. This can give you a really flexible option when it comes to creating a ring you really love.
Some of the reasons our customers choose semi-set mounts are:
You want to choose a centre stone that exactly matches your budget and style
You want to use the centre stone from a heirloom piece of jewellery; makeing your ring truly unique
You want to upgrade from a simple engagement ring to a more elaborate style. Maybe your original ring did not suit your taste, or your original budget didn't stretch to the ring you initially wanted. Resetting the center stone into a semi mount keeps the connection to the original ring and preserves its symbolism.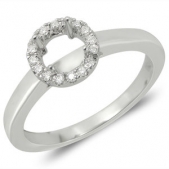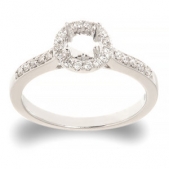 Take the two sem-set ring mounts above. The one on the left is a classic simple, yet elegant design. The one on the right more elaborate. You could swap from a more elegant design to something more elaborate or the other way around.
Your centre stone could be a gemstone that's been passed down the generations in your family, and you want to keep that family connection. There's also the added benefit of not having to pay out for the centre stone, an inexpensive way to get more ring for your money.
We hope this blog has inspired you to think about what you could do with your old jewellery. In our next blog in the series we'll share with you some more ideas on how we can help you to re-purpose your favourite jewellery pieces. Read it here:
In the meantime, if you need any advice on any aspect of jewellery, please do get in touch with us using our
contact form
. Alternatively, we would love to see you in our store at
1 Lands Lane
, in the heart of Leeds city centre.