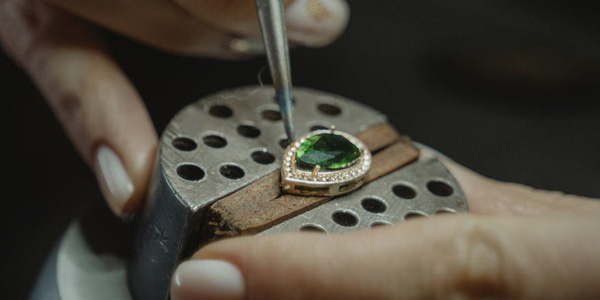 Keep your favourite jewellery pieces looking fabulous!
When your jewellery doesn't look its best, you often leave it at home, and we don't like to see that. That's why jewellery repairs are one of our specialities!
Our team of highly skilled working Jewellers are always on hand to bring new life to a piece that you once wore so glamorously. With their expertise they can restore your much-loved piece to its rightful place; modelled beautifully by you!
Some of our standard repairs include:
Repairs
Fine bracelet and chain repairs (yellow gold) from £12
Fine bracelet and chain repairs (white gold) from £15
Gate bracelet repairs (inc. repair and fit new links) from £25

Ring Resizing & Polishing
Ring sizing down or repair (yellow gold) from £30
Ring sizing down or repair (white gold) from £40
Ring sizing down or repair (platinum) from £40
Yellow gold rings cleaned and polished £15
White gold rings cleaned, polished and rhodium plated from £25
Platinum rings cleaned and polished £25
This is in no way an exhaustive list however, as we also carry a very large selection of catches in 9ct gold, 18ct gold and silver for all manner of repairs to your jewellery fittings. If you need your ring claws re-tipping, a ring shank repairing or your jewellery cleaning we can deal with that too. In fact, with our years of experience the list of repairs we can carry out is almost endless!
As you would expect, we maintain a modern, fully equipped on-site workshop to support all types of jewellery repairs. Therefore, unlike most other jewellers, all our work is completed without ever leaving the premises. This also means your valuables are fully insured whilst they are in our care.
Take a look at some of our jewellery repairs case studies to see how we can help you wear what was once your favourite piece of jewellery again.
Your next step is to call into our showroom in Leeds city centre, at 1 Lands Lane with your repairs. Or if the jewellery repair you need isn't listed above, contact us and tell us how we can help.