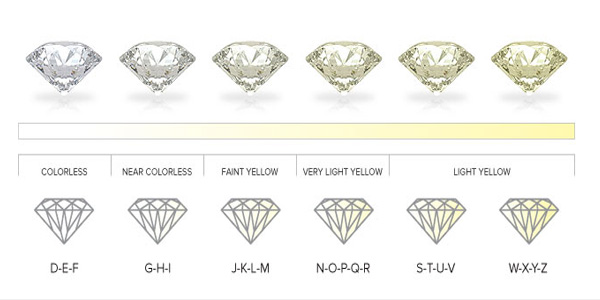 The whiter the diamond, the more valuable the stone
When Jewellers speak of a diamond's colour, they are usually referring to the presence or absence of colour in white diamonds
Because a colourless diamond, like a clear window, allows more light to pass through it than a coloured diamond, colourless diamonds emit more sparkle and fire.
As shown in the Diamond Colour chart above, colourless diamonds (those graded from D to F) are the most expensive because of their rarity. However, you can still buy very attractive diamonds that are graded slightly less than colourless. In fact, diamonds graded from G to I show virtually no colour that is visible to the untrained eye, and therefore represent excellent value. So how do you know which colour is right for you?
In our experience, while many of our customers strive to buy the most colourless diamond they can afford, there are many who actually prefer the warmer glow of lower colour diamonds. This makes the price cheaper as they are more readily available, but they can still look beautiful.
A further important thing to consider when selecting your diamond is the type of metal type you plan on using.  For example, Yellow gold will be much more forgiving to a less than colourless stone than a platinum or white gold setting.
Ultimately, we think that how your diamond makes you feel every time you look at it on your finger is the best way to determine which colour is right for you.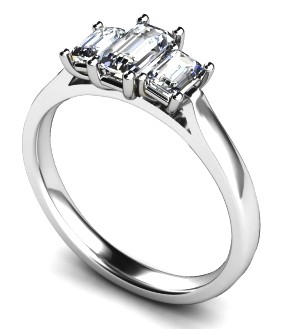 We hope that you now have a better understanding of how colour affects the white look of a diamond, now learn about clarity.
Please also take a look at our Engagement & Wedding rings page to see how we help and support you when you're making this important decision.
Or if you feel you've read enough and would prefer to speak to one of our diamond experts, please call into our showroom in Leeds city centre, at 1 Lands Lane, or feel free to contact us. You can tell us about your diamond aspirations, and we will happily work within your budget to help you choose your ultimate "wow factor" diamond!
Marcia Clarke
As a family-run business we believe that business is not just about selling things, it's also about bringing joy to [...]
Marcia Clarke
With a sparkle like an internal fire all of its own, diamonds are one of the world's most sought-after and [...]