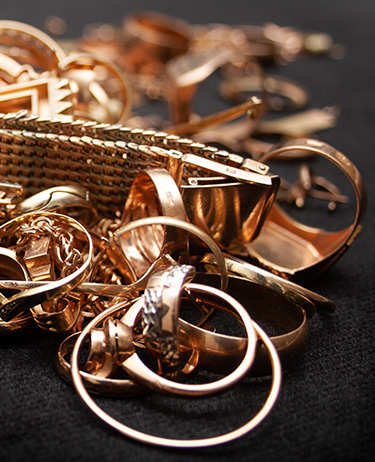 Do you have any Gold, Silver, Platinum or Palladium jewellery that you no longer wear? It's time to turn it into cash!
At Ace Jewellery we have been repurposing old jewellery for over 40 years, and as one of Leeds's busiest scrap gold dealers, you are guaranteed a reliable, fast and efficient service. Our expert Valuers will assess the value of your gold in-house and pay you cash on the spot or directly into your bank account, eliminating the risks of sending it in the post.
You could also turn your unwanted precious metals into a piece that better reflects your individual personality and style, as we tell you about in our Old to New page. However, if you prefer to turn them into cash, you should find the answers to our FAQs below useful.
You can also read about how one of our customers used her old jewellery to buy a stunning new diamond ring here.
**DON'T FORGET**
Selling your gold, silver or platinum jewellery will reduce the value of your jewellery collection. Make sure you advise your insurer, as it could reduce your premium.
How much will you pay me?
Unlike some scrap gold buyers, we are jewellery specialists and therefore we don't just buy for scrap. The price we pay will take into consideration your gold's carat, condition, hallmark, weight, and the price of your particular precious metal on the day. So there is no fixed limit to what your jewellery may be worth.
What if I have more than one type of carat/purity?
That's fine with us; we separate each item and give you a cash valuation for each.
Do you only buy hallmarked items?
No. We will offer to buy all precious metals, whether they are hallmarked or not. We test to establish the precise content and carat/purity value of your items to give you the best possible price.
What do you do with gemstones in my jewellery?
If we feel your gemstones are valuable we will offer you a price for them. Or, for a great money-saving idea, you could use them to create a new remodelled piece of jewellery, as one of our customers did in this case study.
Do you buy coloured Gold?
Yes. We buy white and rose coloured gold at the same rates as yellow gold.
How do I contact you?
Contact us with any further questions. Or better still, call into our showroom in Leeds city centre, at 1 Lands Lane. We'd love to meet you!