Experience our shop:
To launch the video, left click on the arrows on the 'Rotate view' icon to navigate at 360 degrees. Use the plus and minus for more detail.
At Ace Jewellery our philosophy is simple; we want you to enjoy the journey of that experience when you choose to shop with us and make it inexpensive and unforgettable. So, from the minute you enter our store you become the centre of our attention!
We stock an extensive range of fine quality gemstone and diamond jewellery in platinum, silver and gold, all at very competitive prices. We specialise in engagement and wedding rings, so your search for that perfect ring is just a visit away.
Established in 1979, Ace Jewellery is a long-standing partnership which started from a small jewellery unit and has progressed into a well-known independent retail Jewellers situated in Leeds city centre.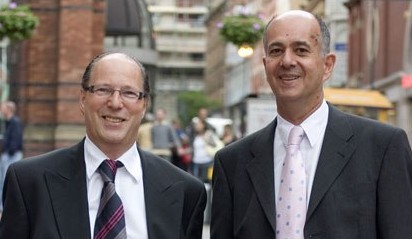 Directors: Raymond Scott and Edward Peters
Browse through our extensive range of services to see how we can help you with your jewellery aspirations. You can also read some of our great testimonials, and our Facebook recommendations to see the standards of service you can expect from us.
Your next step is to call into our showroom at 1 Lands Lane, Leeds or contact us.
"We aim to make your shopping experience with us a memorable one, and leave you with the desire to shop with us again and again."
We're looking forward to welcoming you soon!