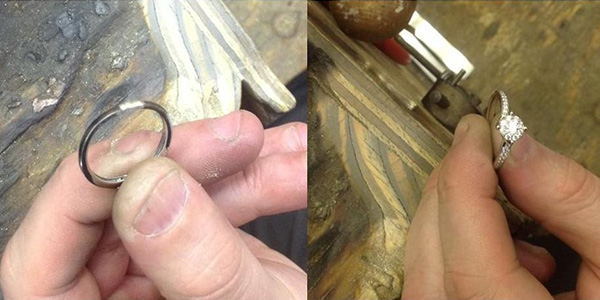 Does your favourite ring no longer fit you and needs re-sizing?
Or is your engagement or wedding ring so loose that you run the risk of losing it, or become so tight that your finger swells and feels uncomfortable? We know how frustrating that is, and that's when you can benefit from our ring re-sizing service!
We can quickly and easily make your rings bigger or smaller, and we can re-size all types of rings. For example:
Platinum, yellow gold and white gold engagement and wedding rings
Men's wedding rings
Dress rings
Eternity rings
We currently ask you to allow up to one week for your resizing to be completed. If you need your resizing doing quicker than that, please discuss it with us when you bring it in, and depending on the nature of your resize, where possible, we'll try to complete it in less time.
We also provide FREE estimates.
When resizing a ring one of our professional staff will measure your finger using an industry-standard ring sizer. Once we know your new ring size, we can then restore your beautiful ring to it's rightful place; on your finger!
Occasionally a client comes to us because other Jewellers have told them that their ring cannot be resized. We have a unique way of fitting a bar inside the ring so that it still fits comfortably on your finger (see the ring on the left). This allows us to take on resizing commissions that other jewellers say can't be done.
As you would expect, we maintain a modern, fully equipped on-site workshop where all our resizing is done. Therefore, unlike most other jewellers, all our work is completed without ever leaving the premises. This also means your valuables are locked in our safes overnight and fully insured whilst they are in our care.
Take a look at some of our case studies to see how we've helped our customers wear their much-loved rings again.
 Ring Resizing & Polishing – Making a ring smaller
Ring sizing down or repair (Yellow Gold) from £35
Ring sizing down or repair (White Gold) from £50
Ring sizing down or repair (Platinum) from £50
Ring sizing down or repair (Silver) from £20
Ring Resizing & Polishing – Making a ring bigger
Making a ring bigger is a little more complicated than making it smaller. For this type of resizing, we ask that you get in touch with us for a quote, or bring your ring in so we can have a look at it before we quote you.
If you've stopped wearing your wedding or engagement rings, or any other rings because they no longer fit contact us, or call into our showroom in Leeds city centre at 1 Lands Lane.
We would love to get you wearing your ring beautifully again very soon! We also have a repair service for rings with diamond set shoulders.