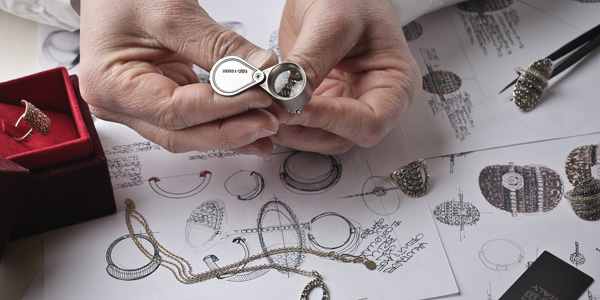 Remodel your jewellery and fall in love with it again!
Are you tired of looking at that piece of jewellery that you used to love wearing? Before you discard your old pieces of jewellery to the back of a drawer, consider this; your jewellery is too precious not to be shown off to the world!
Maybe a gemstone has fallen out of your favourite ring, or perhaps you have a family heirloom that you would like to re-model into a more contemporary piece of jewellery and pass it on to a new generation to treasure? If it means too much to your family to just sell it for scrap then think about remodelling it.
Remodelling your jewellery into a different style really allows you to recapture that sentimental value of a much-favoured piece that you just can't seem to let go of. Or do you have some jewellery that you think is damaged beyond repair?
In order to get an idea of your perfect piece we start with an informal discussion with you. This may lead to a few paper sketches so that you can visualise your piece of jewellery before we begin work. We specialise in re-designing most types of jewellery, giving them a new lease of life. We can work with all styles of precious metals including 18 carat gold, white gold and platinum.
Whether it's made to our own design or your own unique creation, we will design and sketch your jewellery with you to match your individual personality and style. Your next step is to contact us about your piece, or call in to see us at our top-floor showroom at 1 Lands Lane, in Leeds city centre.
The flexibility of making jewellery to order means that we can accommodate most budgets, and you also have the option of making your perfect piece more affordable by putting down a deposit.
Read some of our case studies to see how we've helped our customers give a new lease of life to their jewellery.
Your next step is to call into our showroom in Leeds city centre, at 1 Lands Lane, as we would love to hear about your ideas for your new jewellery creation, or contact us to discuss your ideas.