Are you recently engaged and need to choose your engagement ring?
Congratulations on your engagement! Now, have you thought about which ring setting you would like?
As you're probably finding out, there are many different ways of setting stones into a ring! Each have their own characteristics, and each setting technique creates a look that is part of the overall style of the ring. So if you know what style suits you best, it should make your decision easy.
Whilst we don't want to take away any of your excitement when choosing your ring, different settings also have different features, some of which might not suit your more practical needs. The last thing we'd want is for you to choose a ring that you were unhappy with later. So which do you go for, the look or the features, or a balance of both?
If you're unsure of which setting will suite your sense of style and your practical needs, our short guide below will help make things clearer. We're here for you if you need help, so please visit or showroom in Leeds city centre at 1 Lands Lane, where you can view our extensive range and have a relaxed personal consultation with one of our expert Jewellers.
Or call us on 0113 245 4040, or contact us for any further help or guidance you need.
Anatomy of a Ring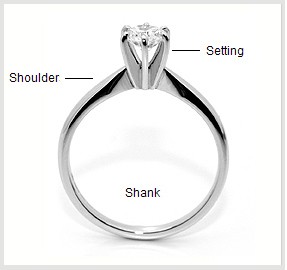 Here is a diagram of a ring, with a description of each of it's distinct parts. These terms are commonly used by Jewellers, and knowing what they are will make you feel more comfortable when talking to us about your ring.
There are various parts to an engagement ring, each styled differently; the gemstone, the setting, the shoulders, and the shank.
The gemstone ~ There are many different beautiful gemstones that you can set in a ring, the most popular of which is a diamond. Read more about diamonds in our 4C's of Diamonds guide.
The setting ~ This is essentially the part that holds the gemstone securely in place. It also defines the look of your ring and showcases the gemstone to its best advantage. There are several setting styles available, the most popular of which we look at below.
The shoulders ~ Where the shank meets the setting, is called the shoulders. The design of these can vary from intricate designs, narrowing or tapered shoulders, or diamond set shoulders.
The shank ~ The shank is essentially the band that fits to your finger, and is the body of the ring. It often takes much of the wear and tear that can occur from day to day wearing, but can also be easily cleaned and repaired.
Engagement Ring Settings
Prong (or Claw) Setting
Prong (or claw) settings are one of the least expensive ways of setting stones. Yet, this type of setting really allows the maximum amount of light to pass through the stone, which really enhances its' 'brilliance', or sparkle.
Four to six claws of precious metal reach around the girdle (side) of the gemstone and arch over its crown (top), securely holding the stone in place and protecting it from daily wear and tear.
Although you can have the visible part of the claws made into decorative shapes, more often they will be smooth and rounded to prevent your ring catching on other objects and causing damage to it.
Bezel (or Rubover) Setting
A Bezel (or Rubover) setting has become more popular recently both for its attractiveness and practicality.
This setting has a collar of precious metal that wraps around the gemstone. When using white gold or platinum it can often give the diamond a larger appearance.
This is a really secure design with a smooth and sleek profile, which also has no light holes cut out of the metal.
This makes it easier to keep clean, as it's less likely to get clogged up with things like soap and hand cream. They are also considered to be a "safer" setting because they better protect your gemstones from damage and loss, perfect for those of you with an active lifestyle.
Bezel settings can also accommodate every diamond shape.
Channel Setting
Channel set engagement rings are another popular choice for brides-to-be because of their sleek, elegant appearance.
What makes a channel set distinct is the way the side diamonds are embedded into the channel groove of the ring. A thin metal lip secures the diamonds in place without the use of claws.
As a result, the gemstones are flush with the band and securely fastened to the ring. This feature makes them sturdier than other designs and less likely to catch in your hair, or snag on clothing or bedding.
Channel settings are commonly used to set gemstones into the shoulders of a ring. They are also popular with eternity rings, with the continuous line of diamonds symbolizing your eternal, never ending love.
Pave Setting
A pave (pronounced as 'pa vay') setting is one that is encrusted with very small diamonds all along the band to give the appearance of a solid diamond surface, rather than a metal band. These same sized diamonds are placed in small holes that have been drilled out on the surface of the ring shank.
Because pave-set diamonds use only tiny beads or prongs to hold them in place, very little of the metal band shows through and the diamonds all appear to be "free-standing".
Pave settings can either go around the whole band ("full pave") or stop halfway around ("half pave"). Most people find a full pave setting visually impressive, but prefer the comfort of a half pave setting, as the small diamonds are less likely to rub against your other fingers.
Marcia Clarke
As a family-run business we believe that business is not just about selling things, it's also about bringing joy to [...]
Marcia Clarke
With a sparkle like an internal fire all of its own, diamonds are one of the world's most sought-after and [...]