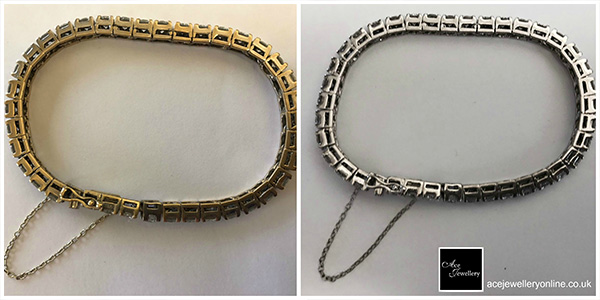 Your Questions Asked and Answered
What is rhodium plating?
White gold is made from yellow gold mixed with white metal alloys like palladium or silver, and then it is given a beautiful coating with a silvery-white metal called rhodium. Rhodium is extremely durable, resistant to corrosion, tarnish and scratches, and this final rhodium finish is what gives white gold its shiny look.
Does my white gold ring have to be rhodium plated?
Yes. Rhodium plating is not permanent, and over time with wear and tear it will eventually wear away.
How long should the rhodium plating on my ring last?
It can depend on how much wear and tear your jewellery goes through, but typically it should last around 1 year. One thing to note is that if the base colour of the white gold has a really yellow colour to it, then you might start to see the gold colour coming through at the base of the ring, before that time.
How much does rhodium plating cost & how long does it take?
Typically, our cost for rhodium plating rings is £30, unless the work is more complex, in which case we will let you know the exact cost before we start the work. We do ask you to allow around one week for the work to be completed, but because we have our own in-house workshop, your jewellery never leaves our premises and is locked in our safe overnight.
If you do need it doing urgently, let us know when you bring it in and we will try our best to turn it around more quickly.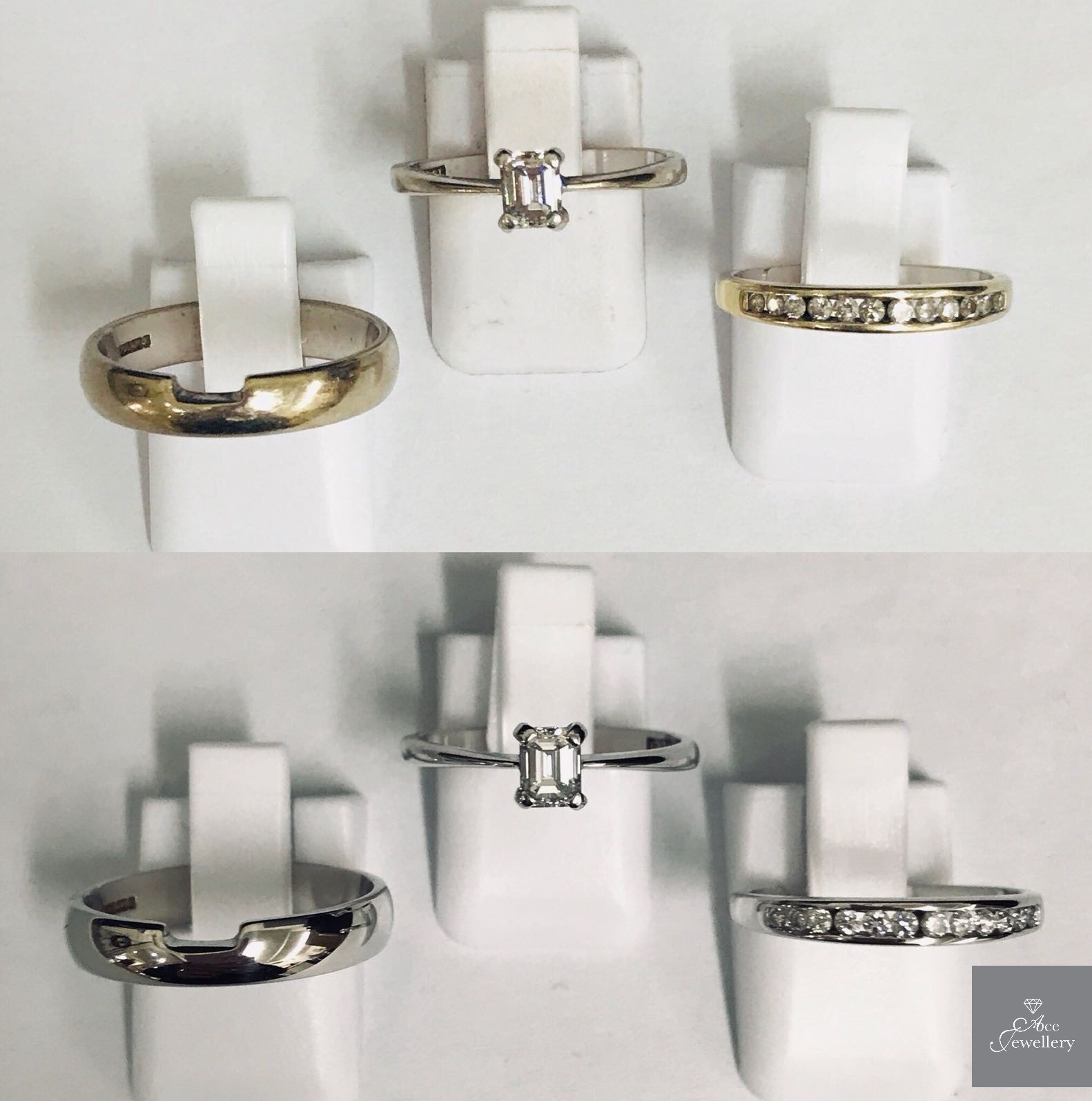 Will the rhodium plating affect my diamonds or gemstones?
No. The process of rhodium plating requires a current to run through the metal. As diamonds and gemstones don't conduct electricity, they will be safe from the plating.
Can you rhodium plate my yellow gold ring?
Yes, we certainly can, and it is one of our most requested jobs! As we mentioned earlier, "white gold" is actually yellow gold with a rhodium coating to give it its shine. The image below shows a range of rings before and after being rhodium plated. Please note, that if your yellow gold jewellery is really yellow, you may find it only takes about 3 months for the gold colour to show through at the back of your ring.
Should I rhodium plate my ring every year?
In our professional opinion, you don't have to. How long your rhodium plating will last can depend on so many factors. Even the types of oil in your skin can affect it. Our advice is to call in with your ring whenever you notice that a previously shiny ring is starting to look a little yellow.
You can also call in to see us with your ring and any other jewellery for a free check-up. We check it over to make sure things like your settings are secure, and that none of your stones are about to fall out, and advice you when you next might need a clean, polish or rhodium plating.
If you need any further help or have any other questions, please do get in touch with us here. Our you can call in to our showroom at 1 Lands Lane, in Leeds City Centre.