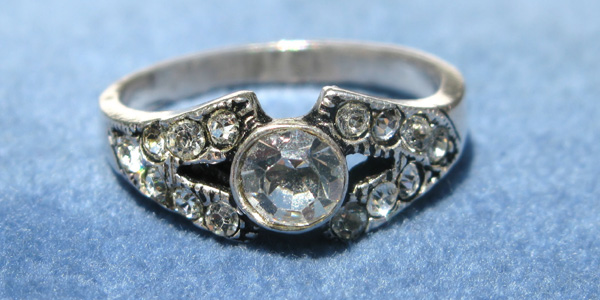 Keep your jewellery looking its sparkling best.
Silver jewellery is a glamorous and fashionable way to add sparkle to your jewellery box. At Ace Jewellery we want the brilliant shine of your silver to last a lifetime, and with the proper care it can. Over time silver often tarnishes, especially when exposed to the chemicals in the air and certain products. You can however keep it at bay with a little bit of effort.
So here are some tips and preventative steps you can take that will help preserve the beauty and character of your silver jewellery:
Cleaning & Maintaining Your Silver
A great way to avoid tarnish is by wearing your jewellery often.
When you do see signs of tarnish, jewellery polishing cloths are an inexpensive way to restore the shine of silver, and they also come with built in jewellery cleaner. Do not press hard when polishing gold filled or plated jewellery or you will damage the surface. You can buy them in store; contact us for more information.
~ Cleaning your jewellery regularly is another way to prevent the build-up of dirt or other substances that can make it look dull.
~ We recommend washing silver by hand in a solution of warm water and washing-up liquid. For hard-to-reach places you can use an old soft toothbrush. Do not leave your silver to soak in the solution and dry it immediately after washing to prevent water stains.
~ We do not recommend using toothpaste; it is too abrasive and leaves dulling scratches.
~ Always remove silver jewellery when using cleaning chemicals or when you go swimming. Bleach, chlorine, and household chemicals can damage gemstones and metals.
~ Avoiding (or at least reducing) tarnish is easy, just make sure you put your make-up, perfume, and hairspray on before you put your jewellery on. These products can dull or even damage the surface of silver.
Storing Your Silver
~ Try to store your silver in a cool, airtight jewellery box. The less air and light your silver is exposed to when you aren't wearing it, the less it is likely to tarnish.
~ Intricate jewellery with lots of prongs or settings can scratch plain silver jewellery, so try to store them separately.
When to call in the professionals!
Regular cleaning can help to reduce tarnishing and dulling. However, such things as dents and scratches can detract from the beauty of a piece of jewellery and cannot be removed by regular cleaning. Our professional deep polish and rhodium plating service will polish out scratches, and really bring out a much better shine in your jewellery, giving it that "as new" look.
Also, jewellery mountings, clasps, claws, and chain links can become damaged over time, and can lead to you losing a chain or a gemstone. We recommend that you bring your jeweller to us annually, so that our working jewellers can check for signs of wear-and-tear to prevent permanent damage.
We want you to love the look of your jewellery every time you wear it! Call into our showroom in Leeds city centre, at 1 Lands Lane, or contact us. You will be impressed at how you can put the sparkle back into your favourite pieces with our professional cleaning and maintenance services.
Marcia Clarke
As a family-run business we believe that business is not just about selling things, it's also about bringing joy to [...]
Marcia Clarke
With a sparkle like an internal fire all of its own, diamonds are one of the world's most sought-after and [...]