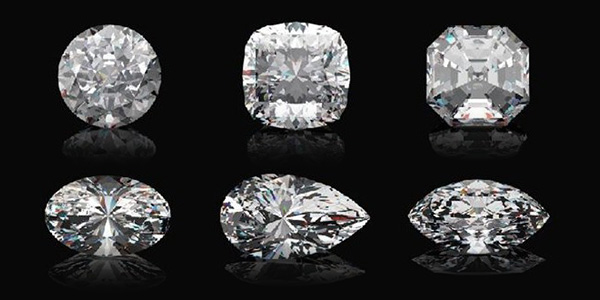 Diamond shape – the shape of your heart!
If you've recently got engaged; Congratulations, you must be so excited!
Often your most important factor in choosing your diamond is your budget, closely followed by your preferred shape. 'Shape' refers to the overall look of a diamond and is usually determined by its view from the top. Diamonds come in a variety of shapes and at Ace Jewellery we stock a variety of shapes for you to set your heart on!
You might also want to consider your preferred shape in relation to your finger size too. To help you with choosing the right shape for your needs, below is a list of all the diamond shapes that we offer, as well as explanations of their unique characteristics.
One more thing to note is that a diamond's shape is sometimes referred to as its cut. However, this should not be confused with the term 'diamond cut', which is one of the 4C's and determines a diamond's "brilliance", or sparkle.
Diamonds are an expensive purchase, so we're always on hand if you need any advice or have any questions about choosing the right diamond shape for you. So please do contact us, or call into our showroom in Leeds city centre at 1 Lands Lane.
Round or Brilliant Cut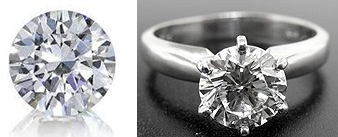 The round brilliant diamond shape is the most popular form of cut diamond, with an estimated 75% of the world's diamonds being cut to this shape.
Round brilliants are not considered to be a "fancy" shape, and very much look how they sound – a rounded diamond in the shape of a circle.
With its 58 facets, the round brilliant diamond has the perfect proportions and symmetry to reflect nearly all the light that enters it, therefore maximising its brilliance (sparkle) and fire. This also makes it a very versatile stone that is timeless in all types of diamond jewellery, and a classic in diamond engagement rings. The round brilliant silhouette also works with almost every ring setting, from classic solitaires to the most elaborate designs.
We would advise that your choice of round brilliant has an ideal cut or very good cut, and that your chosen setting has the least amount of metal around the stone. That way, your stone is still held securely, but does not cover up too much of the diamond and block light from entering it. Diamond shapes such as a round brilliant can often have a foreshortening effect, making them perfect if you have long fingers.
Look through our range of Engagement & Wedding rings for a brilliant cut that suites you.
Princess Cut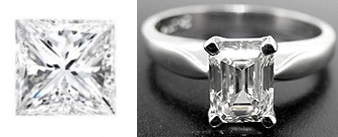 The princess cut diamond shape is second only to the round brilliant in popularity. It's one of the most popular "fancy" diamond shape, especially in diamond engagement rings. Typically square in shape, they can also be rectangular, princess cut diamonds are designed for getting maximum brilliance from it's shape. It is a modified version of the round brilliant diamond, with squared off corners and typically has 57 or 76 facets.
If you love the fire of the traditional round brilliant cut, but want something a little different, it's beautiful brilliance and unique cut makes it a favourite for engagement rings. The princess cut works beautifully as a solitaire but also looks in ring settings with diamond set shoulders, especially smaller princess cut diamonds. It's also a popular choice for setting in earrings.
We would advise that your choice of princess cut diamond has a very good or a good cut. It's also important that your choice of ring setting protects the four pointed corners – these are the points most likely to chip (and why most rectangular or square diamond cuts have cropped corners). A V-shaped prong would be perfect.
Due to its rectangular shape, princess cuts are perfect for you if you have long fingers.
Look through our range of Engagement & Wedding rings for a princess cut that suites you.
Emerald Cut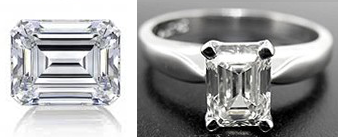 As its name suggests, the emerald cut was originally designed for the cutting of emeralds, but it was soon discovered that the emerald cut was also suitable for other stones, including diamonds. Emerald cut diamonds have a rectangular shape with cropped corners, and a broad, flat plane that resembles stair steps when viewed from above. This style is referred to as a 'step cut'. They are typically cut with blocked corners to a rectangular shape, although a few are cut to be more square.
Emerald cut diamonds usually have 57 facets and because of their long lines, typically have less fire and brilliance than round brilliant cuts. However, they also flash as they catch the light rather than sparkle, making them the perfect choice for you if you prefer a more elegant, understated style.
Because of the "openness" of this shape, larger inclusions (or flaws) are sometimes more visible to the unaided eye, so your choice of diamond usually need to be of a higher clarity. The great news about emerald cuts is that because they're not as popular or "traditional" as the round brilliant or princess cut, they are much less pricey; perfect if you're looking for a large diamond on a budget!
Favoured by style icons such as Grace Kelly, many recently engaged celebrity couples have opted for the different, sophisticated look of the emerald cut stone. Think Beyonce's engagement ring! Long, narrow emerald cuts can flatter short fingers, whilst a squarer outline will suit long, slender fingers.
An emerald cut is particularly well complimented by a platinum ring mount, and because of its shape, tends to only need a simple setting. They also work well with baguettes as a shoulder setting.
Look through our range of three stone engagement rings for an emerald cut that suites you.
Pear Shaped Cut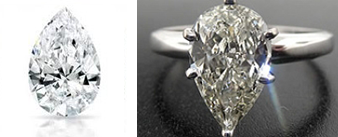 With its rounded end on one side, and a graceful sweeping curve that tapers to a fine point at the other, the pear shaped cut is perhaps the most feminine of all the diamond shapes. Also know as a "tear drop" because of its shape, the pear shaped cut is also a modified version of the round brilliant cut. Its elegant lines means it works just as well in a pendant or a pair of earrings as it does in an engagement ring. With its 57 facets, just like the brilliant cut, it's a fiery stone with lots of wonderful sparkle and flash.
No wonder then that this shape was made famous by Elizabeth Taylor's pear shaped diamond! Pear shape diamonds require a special setting to protect the fragile tip and prevent it from chipping. A three claw setting is typical, but if you prefer the added security of extra claws, five and six claw settings are also available.
The elongated shape can help to make short fingers appear longer and also has a subtle slimming effect on your finger. If you wear your stone with the tip pointing towards the fingernails it gives the appearance of length, or point it towards your wrist to balance fingers that are already long and slender.
In our experience, while not one of the "traditional" shapes, pear shaped diamonds make a striking and slender alternative for your engagement ring. It's a beautiful cut for the woman that wants to stand out from the crowd!
Marquise Cut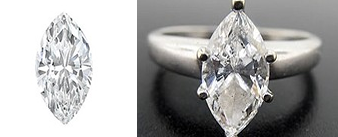 Slender and regal looking; there's something incredibly elegant about the marquise shaped diamond! Then again it was inspired by the Marchioness Madame de Pompadour when her lover, King Louis XV, commissioned a stone to match her striking smile in the 18th century.
Its shape is distinctive amongst diamond lovers, you could describe it as like a little boat – a slim oval which narrows to a point at both ends. This long, narrow outline naturally compliments the shape of your finger making it a popular choice for engagement rings. Think Victoria Beckham's engagement ring! Another modification of the round brilliant, the marquise diamond shape has 57 facets making it the perfect choice if you want real sparkle from your diamond.
Because of its shape, a marquise allows the diamond cutter to preserve more of the rough stone than may be possible with a round brilliant cut. This along with its length and its curved sides, creates the illusion that the stone is bigger than it really is, maximizing the carat weight and making it a stunning choice for lower budgets. Another bonus of marquise diamonds is their lengthening effect, making them perfect for making short fingers appear longer. A wider version of the shape will help to balance wide fingers or larger hands.
If you're looking for stunning simplicity marquises work beautifully in a solitaire setting or place a marquise diamond in the centre of a multi-stone setting alongside round, princess, or baguette side stones. For peace of mind, we recommend choosing a four-claw setting to hold the body of the stone securely. Or a six-claw setting, giving you the added benefit of two V-shaped prongs to protect the points at either end, the most vulnerable part of the diamond.
Look through our range of Engagement & Wedding rings for a marquise cut that suites you.
Marcia Clarke
As a family-run business we believe that business is not just about selling things, it's also about bringing joy to [...]
Marcia Clarke
With a sparkle like an internal fire all of its own, diamonds are one of the world's most sought-after and [...]