With a sparkle like an internal fire all of its own, diamonds are one of the world's most sought-after and adored gemstones!
It's said that those born in April are lucky enough to call this fascinating gem, a symbol of clarity and strength, their birthstone. The diamond is an incredibly strong gemstone, in fact it's name comes from the Greek word "adamas", which means "invincible" or "unbreakable". Cherished for its timeless charm long before it became the April birthstone, the diamond is also one of our most enduring and versatile gemstones.
The way a diamond is cut can change the appearance of it significantly. It can also change the way it looks to the naked eye, creating beautiful alternative looks, like the baguette or emerald cut, for example.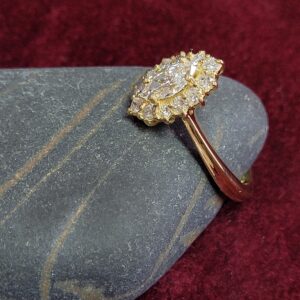 As with many other gemstones, because of their durability and strength, they also tick the sustainability box too. We love helping customers re-use, re-purpose or recycle their diamond jewellery. Cleaning and repairing that heirloom piece that has been passed down through generations. Or using the stones from a ring to make a contemporary pair of earrings. You can even have a loved ones ashes made into a contemporary piece of jewellery, so they're always with you (this is not a service we offer).
However you look at it, diamonds can have one job in life – a glittering career making you look amazing!
Fun Fact:  Have you ever wondered why diamonds are sometimes called ice? Diamonds are not only called 'ice' due to their clear, colourless crystal appearance but because of its ability to conduct heat higher than any other gemstone. This means diamonds are able to pull heat away from any warm object they come in contact with. You can test this yourself by pressing a diamond against your lips or skin – it will give you a cold and icy feeling.
If your diamond jewellery needs some tlc this April or any time of year, get in touch with us here, or call in to see us at our top-floor showroom at 1 Lands Lane, Leeds.