At Ace Jewellery we really love the current trend in rose gold; we're seeing it pop up all over the place!
This past season we've noticed more and more requests for engagement rings in rose gold. Rose gold is a softer version of yellow gold, in that instead of having undertones of yellow; the colour has warm, pink undertones to it.
Now the colour is moving from the catwalks and fingers, to the high street and is increasingly adourning wrists and necklines, as rose gold watches and other jewellery also grow in popularity.
We're going to share some rose gold love with you and showcase ways to wear some of the great pieces out there, so you too can share the love of rose gold with us.
Rose Gold Engagement Rings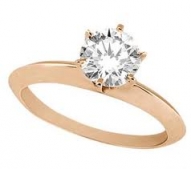 As busy working Jewellers who carry a wide range of engagement and wedding rings, we've seen this trend emerge first hand. Whereas before customers wanted to see a ring in white or yellow gold, now we're seeing more and more customers opting for something different and being genuinely happy to choose rose gold whole-heartedly.
This trend for rose gold might be "right now", but it has in fact been fashionable since the 19th century, particularly in Russia. Russian wedding rings combine white, yellow and rose gold to symbolize unity and the elements.
We must admit it's a great change and great to see other types of gold increasing in popularity, as it adds more variety to the jewellery we see people wearing. Rose gold is a great way to stand out in a sea of white gold rings.
We are currently expanding our rose gold engagement & wedding ring collection, with some unique styles and settings that are sure to impress! We also carry a variety of antique rose gold jewellery. Visit our showroom on 1 Lands Lane, Leeds to view the range or contact us here.
And remember, just because an item is not part of our rose gold collection doesn't mean we can't make it in rose gold. As working Jewellers and Designers we can create all kinds of customized jewellery so tell us your ideas!
London 2012 commemorative jewellery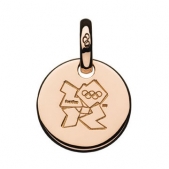 The London 2012 Olympics have also influenced the trend, with this podium tribute to Team GB and all the medals they are winning, in the form of this gold, silver and rose gold watch trio.
There's also this lovely little commemorative charm.
See which Hermès bag broke a record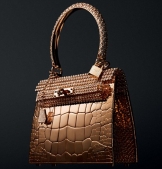 Birkin bags are known for carrying a hefty price tag, but the brand's rose and white gold version will set you back a whopping €1.5 million (approximately £1.25 million)!
Designed to be worn as a bracelet – but still functional as a miniature handbag, believe it or not – the mini Birkin Sac Bijou is studded with no less than 2,712 diamonds, and is joined by tiny Kelly, Nausicaa and Chaîne d'ancre designs.
Created by Pierre Hardy, creative director of fine jewellery at Hermès, just three versions of each design exist. Now that's one luxurious and expensive way to show your love of rose gold!
What about you; have you indulged in some rose gold jewellery recently? We'd love to hear about it, and what you think about it in comparison to white and yellow gold. Get in touch with us here or call into our showroom at 1 Lands Lane, Leeds.