Some ideas for giving your jewellery a great new look!
We've seen some great transformations from some of our most recent jewellery remodelling commissions. So we thought we'd share some of them with you, just to show you what great possibilities there are for altering a piece of jewellery that you've stopped wearing.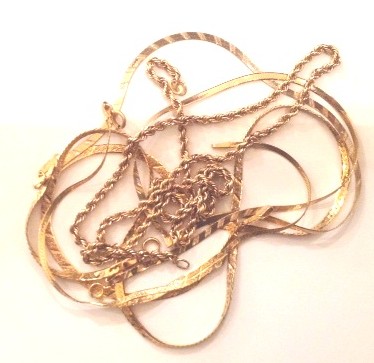 With this commission our customer had this collection of broken jewellery that they wanted re-modelling into a personalised name necklace for their daughter.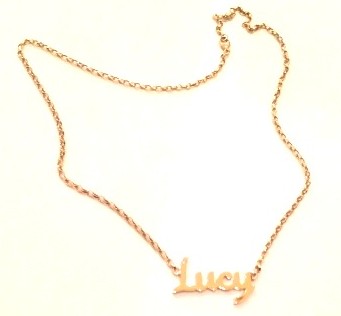 Our Jewellery Designers melted down their old chains into a flat piece of gold sheet. They then traced the outline of the name, and cut it out with a precision tool. Links were then attached to an existing chain the customer had to complete the necklace. In a final exquisite touch, a tiny diamond was also set into the top of the letter L. Personalised jewellery really makes an impression, and would make a perfect sentimental gift for your someone special.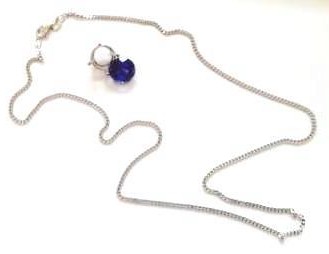 This commission came about when our customer asked us to create a pendant for their daughter to reflect her individual style and personality. Working with our Jewellery Designers, they chose a high quality AAA tanzanite stone, along with a white gold chain and claw setting to hold the stone.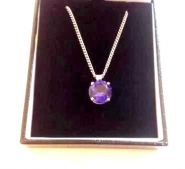 As you can see, the white gold setting and chain compliments the deep blue and purple hues of the stone perfectly! With this next commission our customer had a lovely string of pearls lying around in her jewellery box that she didn't wear. One of our Jewellery Designers removed the shank from a ring that she spotted in our showcase and attached a loop to the ring setting.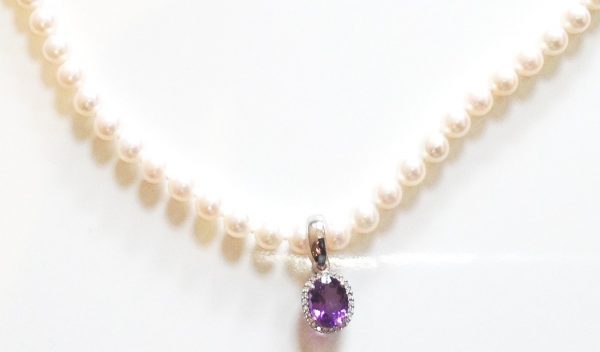 Our customer was delighted with her "re-invented" pearls, which now have a beautiful detachable Amethyst & Diamond loop that really make them pop! Because it's detachable, the loop can be worn with any other necklaces she has. In this final commission, our customer called into our showroom with two rings for a suggestion as to how to make them into one.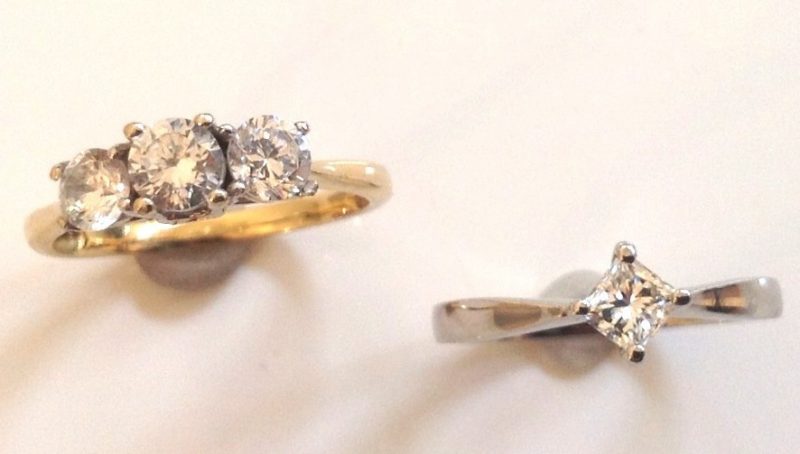 One of our Jewellers suggested adding a square Princess Cut Diamond that matched the one in her single stone ring to make a completely new ring.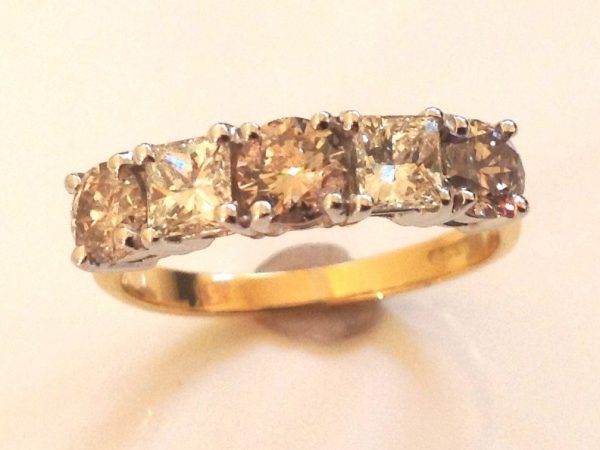 This is the result! We supplied a brand new ring mount to create a lovely new five stone ring, using the customer's original three round diamonds and her Princess Cut Diamond.
One of the main things to take away from these re-modelling ideas, is the fact that they don't have to cost as much as you might think. In instances where we don't create a bespoke jewellery commission from scratch from brand new precious metals and stones, you're already minimizing your costs. For example, because we also sell a wide range of pre-owned jewellery, we have a good supply of ring mounts, stones and other jewellery pieces that we can use for re-modelling.
Do you have any jewellery lying around that you think you really want to wear again? Contact us to discuss it, or call into our showroom in Leeds city centre at 1 Lands Lane.