We would love to re-purpose it for you!
In our first blog in this series, we showed you how you can semi-set ring mounts to create a completely different looking ring. In this next blog we're going to share with you some more ideas on how you can re-purpose your old jewellery, even if you think it might be a lost cause!
Pendant Mounts
We mentioned solitaires in our first blog in this series Don't Give Up On Your Old Jewellery Just Yet…Pt 1. This is how we helped our customer fall in love again with her solitaire.
Our customer came in with a diamond pendant that she wanted making into something a little more interesting. We supplied the fitting and created a brand new heart shaped pendant for her, with her original diamond taking centre stage. We loved how we were able to help her turn her simple solitaire into a high-end looking piece of jewellery, and so we named her new pendant The "Ace of Diamonds"!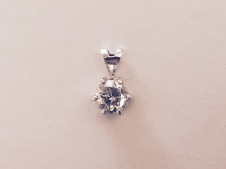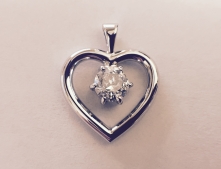 Add texture to your jewellery metal
Another great way to re-purpose your jewellery is to add some style, flair or a unique touch to an existing piece.
One of our customers wanted something unique as a token of their love to their partner. Their Father's silver wedding ring was something they wanted to be included in their nuptuals in some way. As they were both nature lovers, adding a kind of bark effect to their plain ring was a great way to remember their Dad.
We really loved creating this piece, demonstrating that there are so many different effects that can be achieved with different metals. Simple, yet especially sentimental, they were over the moon with the result!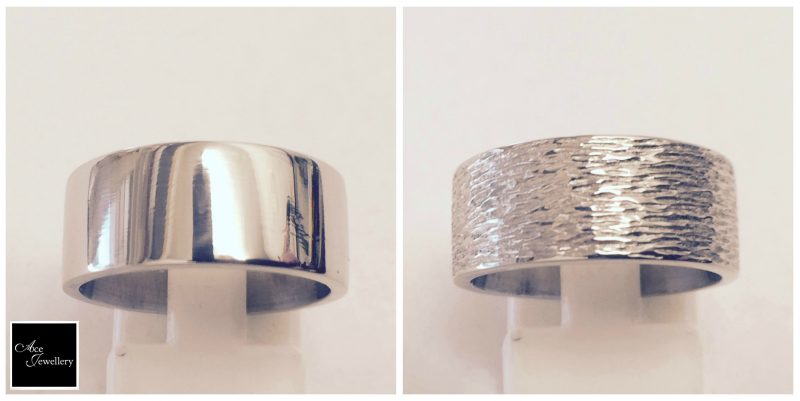 Between this blog and Part 1 in this blog series, you've now got some great ideas for re-purposing your old jewellery – see, we told you not to give up on it just yet! If you're now feeling inspired to dig out those old pieces lying unloved in a drawer, your next step is to call in to see us with it. We would love to help you shine a sparkling new light on it!
We're based at 1 Lands Lane, in the heart of the Leeds shopping area, or contact us first with any questions you might have.