No longer just a simple band of silver or gold, they've taken a swift turn towards more fashionable and flashy!

Gone are the days when the only choices for a groom's ring was a simple metal band of either silver or gold! Don't get us wrong, the plain and elegant band of silver or gold is still the most popular choice amongst couples. The classic simplicity of it is perfect for those who want a clean, fuss free declaration of their love.
The modern man has now started to step forward in this year, and is demanding more choice, just like what his fiance gets! We're loving that grooms are breaking down wedding ring barriers by mixing up metals, textures, and adding gemstones. The other trend we're loving is the rise of the unisex or gender neutral wedding ring. We're seeing a huge rise in couples wanting the same wedding ring for their special day.
In this blog, we're bringing you some of our favourite wedding rings that can be worn by either of you, so if you think your options with men's wedding rings are limited, get ready to kiss that thought good-bye!
Admiral Diamond Set Wedding Ring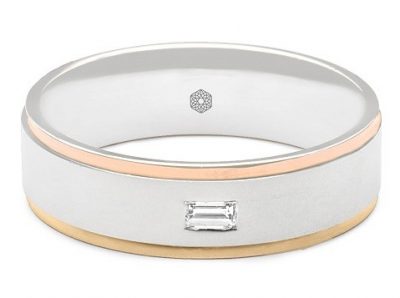 With it's brushed centre and highly polished flat undercut edge, the Admiral Diamond Set Wedding Ring features a rectangular shaped baguette diamond. It's slightly clipped corners add extra facets that really increases the sparkle and shine from the diamond.
Apollo Diamond Set Wedding Ring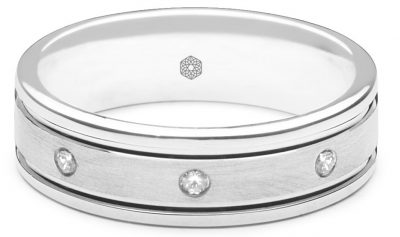 With it's brushed matt centre in contrast to the mirror polished shiny look of traditional wedding rings, the Apollo Diamond Set Wedding Ring is a very popular choice with our male and female customers. This striking ring finish costs very little, but gives off a contemporary, sophisticated feel to rings. This is especially true when you look at it's combined mirror-polished edges and it's eight brilliant cut diamonds.
D Shape Wedding Ring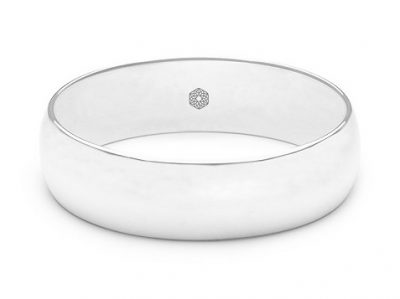 If streamlined silhouettes are you or your partner's thing, this classic D/Shape Wedding Ring with a flat inside and curved top is your perfect choice! Less can be more when it comes to wedding rings, and though it may be plain, this ring's curves means it attracts both genders who want something simple, yet elegant.
Bark Pattern Wedding Ring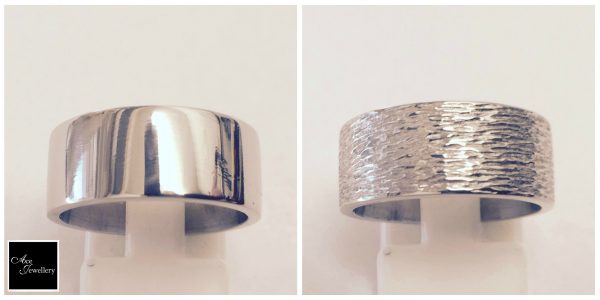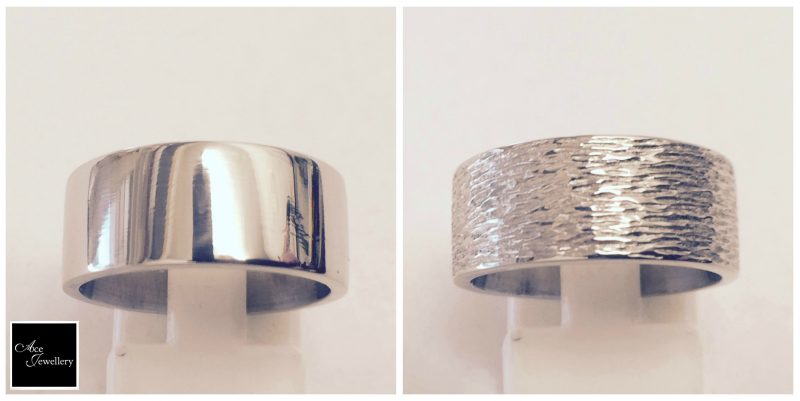 Finally, what about our wild card, bark effect wedding rings! Couples wanting something a little bit different are turning to unique twists on the modern classic ring by applying effects like this bark inspired look. For a couple that loves the outdoors, nothing screams loving being out in nature more than this effect.
We can easily take a plain high gloss ring and apply this effect to it to order, for both men and women and in a variety of sizes.
Not sure if you're ready to make the leap to unisex rings just yet? Take a look at our other wedding rings styles to find the perfect fit for you and your partner.