If you're recently engaged – Congratulations! Because your ring is now possibly the most important piece of jewellery you own (not to mention probably the most expensive), proper engagement ring care should be a priority.
After all, your significant other probably spent many anxious hours deciding how to pop the question, as well as much money.
Equally, you've spent months, perhaps years, dreaming of your perfect engagement ring, so now that it's a permanent fixture on your left hand, you'll want to ensure it stays just as stunning and sparkly for many years to come, so here are our tips and tricks on how to take care of your engagement ring.
#1 Do Buy or Check Your Insurance
Making sure your engagement ring can be replaced if the worst happened is something we highly recommend. You don't necessarily have to buy a separate insurance policy, as you can check your existing home contents policy to make sure you're covered for "high value items". Now would also be  good time to make sure that the cover you do have is enough to cover your new ring.
Your insurer is likely to want to know the value of your ring, so it's also important to have all your ring valued now, and every five years. As the cost of diamonds and precious metals go up over time, if you were to lose your ring and you hadn't had it valued, the insured value could be far less than it's actual replacement cost."
Find out more about our Jewellery Valuation Service.
#2  Don't be tempted to take your ring off in public
Although a build up of soap and cleansers can make your rock look dull, try to resist the temptation to remove your engagement ring while you're lathering up. The possibility that you might leave your ring on the ledge of the sink, or, worse, drop it down the drain, is a big risk to take.
If you're worried about soap build-up, we recommend giving your ring a good long blast under clean running water afterwards, safe in the knowledge that it's clean AND safe.
Read our other tips for looking after your engagement ring and other jewellery.
#3 Don't touch the centre stone
Pick up your ring from the band, not the centre stone. This keeps your setting from becoming loose. And when you avoid touching the stone, you'll protect it from the build up that comes from our skin's natural oils.
#4 Do keep your ring clean

Keep cleaning your ring simple! To help keep their lustre, gently clean your diamonds with a mild cleaning solution (heavily diluted washing up liquid is ideal), rinse thoroughly with water and dry with a soft cloth. For tips and advice on taking care of your engagement ring and your other jewellery, read our Jewellery Care & Maintenance Guides.
What if you prefer to leave it to the professionals? Well, we can help you with that too. Visit our Jewellery Repairs page to find out more about our cleaning and polishing services.
#5 Don't Put Your Ring Through Needless Wear and Tear
A diamond is one of the world's hardest natural materials, but that doesn't mean a cut and polished diamond cannot chip! Sometimes the table of a cut diamond can be susceptible to wear and tear. These are out top 3 Tips:
Try not to knock it against other hard materials.
If your ring might knock against a hard surface, either take it off, or turn the stone around so it's facing your palms, giving it some cushioning.
Don't store your ring next to other diamonds, as diamonds can scratch one another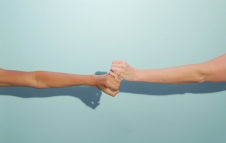 Just like your marriage, your ring is meant to last a lifetime, so it pays to give it the very best treatment. So, whether it's the chemicals to avoid, or where to store your sparkler, our tips will help you keep your engagement ring looking as gorgeous as when you first received it.
If you are having an issues with your engagement ring, such as it being a little loose on your finger, or it could do with a spruce up, have a read of our jewellery services pages for more information.