Has the ring shank on your favourite ring worn away?
Most of us have a favourite ring – you know the one you love nearly to death – and often wear it daily no matter what you're doing!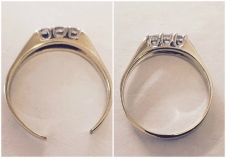 But daily activities can damage a ring's shank – the bottom and lower sides of the ring. Because it comes in contact with anything and everything, the shank wears at a much faster rate than the top of the ring, leaving it looking worn (the picture on the left).
The image on the left below shows a worn ring shank, with little definition. The worn portion of the shank was re-soldered, cleaned and polished.
Here at Ace, our Jewellery Workshop Team can quickly repair your worn shank, leaving it smooth and more defined, and finished to a new and lustrous condition.
Bring your rings to our on-site workshop at 1 Lands Lane, Leeds, and let's see if we can have you falling in love with your favourite ring all over again! Or contact us for more inspiration or advise.