Tiger's Eye gemstone – Before
This gemstone was purchased by our client abroad, and they bought it to us for suggestions on how they could make it into a piece of jewellery.
Our designers thought such a stunning stone would be ideal for making into a pendant. Instead of using the standard fine claw setting, our designers hand made a chunkier design setting from 9ct gold, which makes a real feature out of the claws.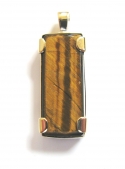 Tiger's Eye gemstone – After
As you can see from the finished pendant, this gemstone really does make an unusual and distinctive piece of jewellery. Our happy customer even went to the trouble of posting a testimonial!
You could use this case study as inspiration for your own bespoke piece of jewellery. Our Jewellery Designers will work with you to create something unique that truly reflects your style and personality.
Call into our showroom at 1 Lands Lane, Leeds or contact us here.