Engagement & Wedding Ring Sets – How to make them fit together perfectly.
What do you do if your wedding ring has a straight edge when sat next to your engagement ring?
This customer's wedding ring did'nt fit flush against her engagement ring when she bought it to us.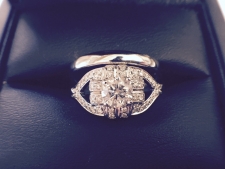 Our Workshop Team can shape almost any wedding ring to fit perfectly next to your engagement ring. Using a technique called 'contouring', we use your engagement ring as a guide to re-mould your wedding ring to a shape that matches the contours of your engagement ring.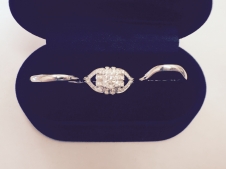 On the left is the wedding ring before re-moulding. In the right image you can see the how the shape has changed, which incidentally does not compromise the metal.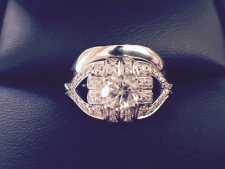 As your can see, her engagement and wedding rings now fit together beautifully with a minimal gap between them. The look of the two complementary rings left our customer speechless!
If you're considering an engagement and wedding ring set, or have an questions about the best wedding ring to pair with your engagement ring, contact a member of our team, who will be happy to talk throught all the options with you. Or you can call in to our showroom at 1 Lands Lane, Leeds City Centre.
Now you've found the perfect person, we're looking forward to helping you find your perfect rings!