The birth of a new piece of jewellery!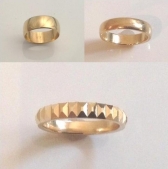 One of our customers came across a ring she adored in a magazine. We melted down her old wide wedding band that she no longer wore, to make a thicker, narrower band.
We then crafted this unique design into the new ring.
She loves her new ring and so do we!
Are you thinking about doing something similar with your old or unwanted jewellery? Take a look at our Re-design & Re-model album on Faceook for some more inspiration, or contact us for help and advice.
Better still, call in to see us at our top-floor showroom in Leeds city centre at 1 Lands Lane. We'd love to meet you!