'Something borrowed' is one of our favourite parts of the British wedding tradition.
We love the idea of couples being able to give their  nearest and dearest a special place at their big day, whether or not they are physically there. Saying it with jewellery is even more exciting!
So, in this blog post we've got some great ideas on how you can do just that – ideas guaranteed to make you all mushy and sentimental…!
1. Your Grandmother's Brooch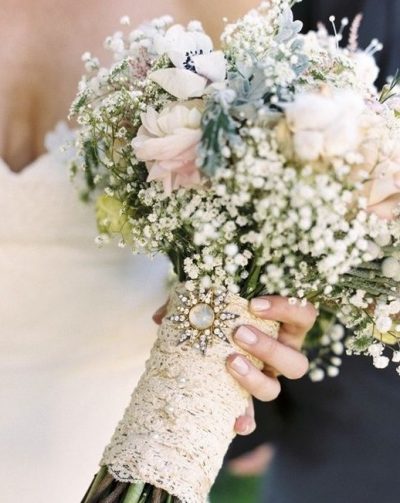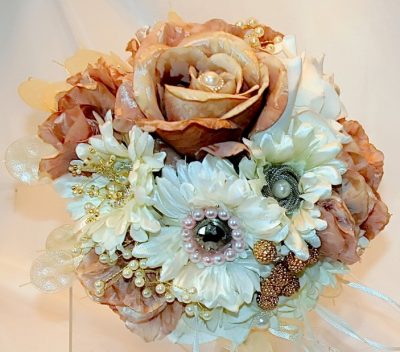 Brooch bouquets are a stunning and lasting alternative to a traditional wedding bouquet. If it's made of from silk, like the one above, you can also have the bouquet made into an everlasting reminder of your big day. Alternatively, you can incorporate it into the bouquet itself.
Well, it doesn't have to be from your Grandmother, any relative that loves brooches can be remembered this way. The vintage look of brooches doesn't really go out of style when it comes to wedding bouquets. Attach one to the front of your bouquet, securing it on a fabric wrap around the stems, using something like hessian, lace or satin.
2. Jewellery from your Mother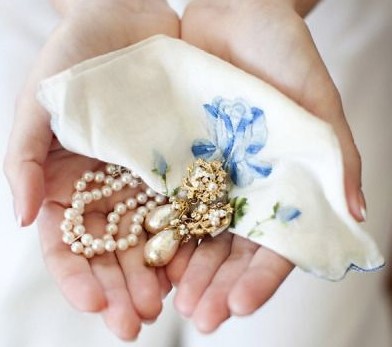 Pearls are a beautiful choice for bridal jewellery on your wedding day! Pearls are simple, yet timeless — and can be worn long after your wedding since they're a staple of a fine jewellery wardrobe.
An elegant pearl necklace is always a popular choice when it comes to jewellery as it complements just about any bridal look. Earrings are also a firm favourite, think a chandelier dripping strands of pearls accented with diamonds. Or bring some romance with white oval pearls set in yellow gold and a smattering of diamonds.
Just as you've inherited your wedding pearls, you may be lucky enough to pass them on to a your next generation, creating a long-standing family tradition that will always be in vogue. Read more about our pearl re-stringing service.
3. Your Parent's Rings
Here at Ace Jewellery we love heirloom jewellery, and the warm, sentimental feelings they conjure up! What better way to keep family close during your ceremony than incorporating the family wedding rings.
Attach your parent's wedding rings to your bouquet using a bit of ribbon and string. Do remember to remove the rings before you throw the bouquet though! Many people love the 'old jewellery' look of heirloom jewellery, but If your rings did need a clean, read more on our silver jewellery cleaning and our rhodium plating services.
4. Your Grandmother's vintage hair pin
Vintage wedding hair pins add so much class to your wedding ensemble; these bridal hair accessories are small enough not to take centre stage but will still add a striking touch to your hairstyle. The great thing about a hair pin is that it can be hidden deep within your hairstyle, if you feel it doesn't match your wedding dress well, or sit proudly on show.
5. A silver sixpence from a happily married couple
For many years it was also tradition for the bride and groom to give each other gold and silver coins after exchanging rings. We all know the traditional poem, 'Something old, something new, something borrowed, something blue'. But did you know the last part of the poem is 'and a silver sixpence in her shoe'!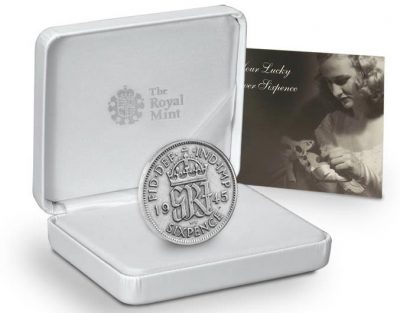 Traditionally the bride's father would slip a sixpence coin into her left shoe to bring luck and also wish the happy couple a prosperous life together. Gold Sovereign coins and silver Britannia coins are a perfect way to observe that tradition today. You can also choose from a wide range of silver sixpence jewellery, such as pendants, cufflinks or even just a coin itself. We often have unique pieces of one-of-a-kind pre-loved jewellery in stock, so it's always worth giving us a call to check.
So there you have it, some great ways to remember loved ones and include a little bit of the special people in your life in your wedding day, whether they can be there or not. Are you a fan of traditions?
Which traditions will you be including on your big day, or will you be making up your own? We'd love to hear your thoughts, so please leave a comment below. Of course, if you need any help with choosing your wedding day jewellery, including your engagement and wedding rings, please do call in to see us in our showroom at 1 Lands Lane, right in the heart of Leeds city centre. Or you can get in touch with us here.